The Refugee Crisis: A Shared Human Condition
African Context
The event will be held at the Akrofi-Christaller Institute of Theology, Mission, and Culture in Akropong-Akuapem, Ghana between June 28th and 30th, 2017.
This forum will explore the causes, experiences, and responses surrounding the "Refugee Crisis" in Africa. Building upon reflections from the 2016 Forum, which focused on the refugee crisis as a shared human condition and which brought in deep biblical and theological insights, we will seek to deepen our engagement with contextual and historical analyses, thematic explorations, and case studies specific to the African community. These analyses will also cast light on global realities, revealing implications for all Christ-followers and adding further to our theological explorations and commitments.
We encourage organizations working in these areas to consider attending or sending representatives to join in a process that moves toward formulating specific, contextual action plans. And we especially encourage young scholar-practitioners to attend.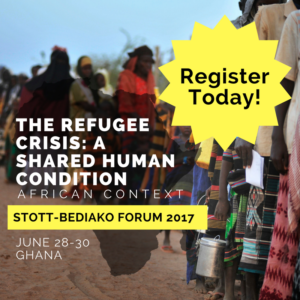 If you plan to attend or would like to encourage a colleague to participate, now is the time! Official registration is open and will be available until June 16th.
We will also have a small number of limited scholarships available on a first-come-first-serve basis. Click to submit a scholarship application.
Other Information about the Forum:
Dates: June 28, 2017 (All Day) Optional Field Visit to a Former Slave Castle (encouraged)
June 29-30, 2017 (8:00 AM – 7:00 PM) Stott-Bediako Forum
Cost: $200 USD Registration Fee: Includes lodging on the nights of the 28th, 29th, and 30th and meals starting dinner on the 28th and ending with breakfast on the 1st of July. (Some parts of the cost may be waived for those lodging elsewhere or volunteers for French-English interpretation.) Budget an extra $151 cash for the field visit to a former slave castle.
Resources for Formation: Upon registration, participants will receive a packet of resources. This includes pre-forum activities for you to engage in, a website where we will upload forum papers, and access to a Facebook group for media discussion and sharing. We encourage you to get involved as much as possible!
We look forward to journeying with you all, and we thank you for partnering with us as we seek to collaborate in God's transformation of our world!