2017 Stott-Bedikao Forum
The Refugee Crisis: A Shared Human Condition
African Context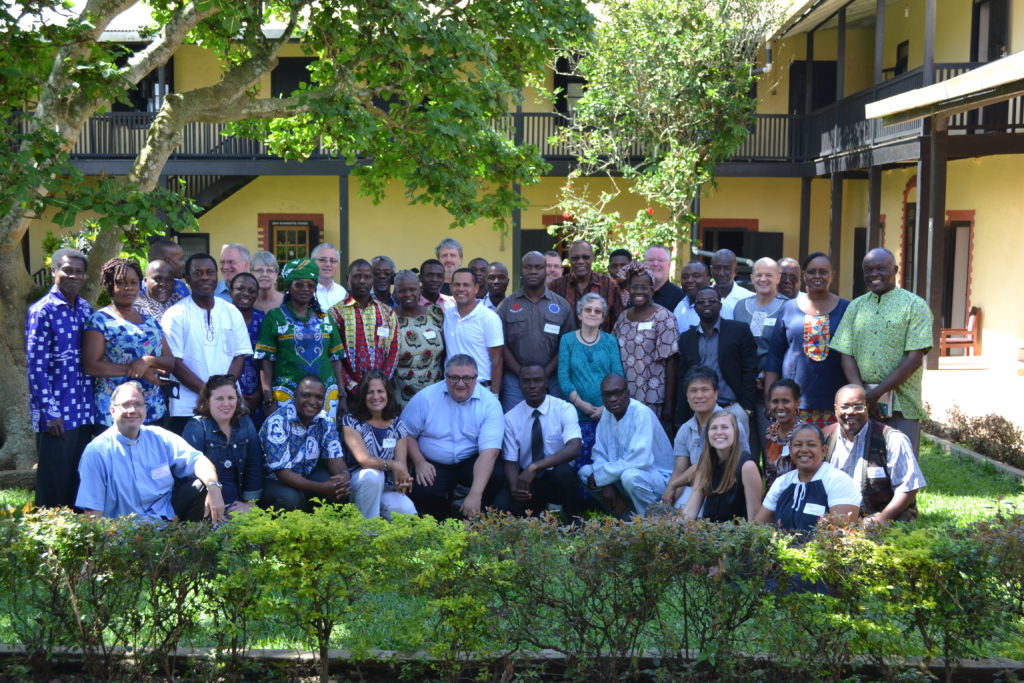 The annual Stott-Bediako Forum held by the International Fellowship for Mission as Transformation (INFEMIT), bears the names of John Stott and Kwame Bediako, two historical theologians who shared a vision for theological expressions rooted in and emerging from diverse contexts around the globe. They sought to bridge traditional divides, such as those between "Majority" and "Minority" worlds, men and women, academia and practitioners. This year, in its sixth iteration, we celebrate that the Stott-Bediako Forum could finally take place in the homeland of Kwame Bediako in Ghana where it was hosted by the Akrofi-Christaller Institute for Theology, Mission and Culture.
This year's forum built upon reflections from the previous year and carried forward the theme: The Refugee Crisis: A Shared Human Condition. With a specific focus on The African Context, this forum sought to deepen our understanding of migration movements in our world today, especially across the continent of Africa, and explore a holistic theological vision for our response. We also dedicated a significant amount of our time together to fellowship and collaboration, in order to develop specific commitments to action in our contexts and to build relationships that will expand and enrich those responses.
Prior to the main events of the forum, INFEMIT and ACI offered the chance to visit to a former slave castle on the coast of Ghana, a fort in which slaves were held captive during the time of the trans-Atlantic slave trade. Men and women captured inland were brought to this fort where they were kept in tight, dark quarters with little food for up to three months before embarking on their voyage to plantations in the Americas. Their suffering, the permanency of their migration, and its impact on the histories of so many people and nations echoes in the realities of displaced people today. Our visit to the slave castle impacted each participant deeply and personally, but also served as a collective encounter in which to root our reflections and responses over the following days of the forum.
Our reflections and response were also bounded by Eucharistic elements. On the first day of the Stott-Bediako Forum, Daniel Groody shared a presentation on Passing Over: Migration, Theology and Eucharist, reminding us of God's migration to earth so that we could be reconciled to God and to one another and so, join in the migration back to our homeland. Following this, René August and Caroline Powell led us in a time of offering our stories to one another and remembering histories of migration in the Bible and throughout our world. In doing so, we gathered an image of our collective story – God's story – of migration.
Throughout the following two days, we discussed issues of internal displacement, led by Emily Choge and Julio Isaza; a theology of hospitality, led by Corneliu Constantineanu and Marcel Macelaru; and the vital role of the Church, led by Emmanuel Anim and Tom Albinson. Presentations and discussions were also held in small groups on various other topics offered by Raphael Idialu, Torbjörn Toll, Rhodian Munyenyembe, Rolf Zwick, and Barnabé Anzuruni. Information on each of these presenters and the topics they shared can be found in the program on our website. We will also be featuring audio recordings of some presentations over the next few weeks, and we encourage you to tune in!
Our forum concluded with a time of communion in which we offered our gifts to one another – our commitments to engage as we reenter our home contexts. Before this, participants had the opportunity to gather in groups focused on common questions and desires to respond. These groups were encouraged to support one another and work together toward action both during and after the forum. Here are a few of the commitments that emerged:
We commit to developing a diploma or certificate theological course in Africa (offered even by extension) on refugee studies, so that members of the church can be reached and engage at a grassroots level to reflect and respond to the needs of refugees.
We commit to finding one another (as a network of theologian-practitioners within Africa), so that we may grow in our understanding that we are the body of Christ and in our ability to discern the signs of the times and respond to issues that arise.
We lament how often the church has not responded to internally displaced people, refugees, migrants, and stateless people. We commit, through our networks, to raise awareness among churches so that they may start to respond.
We, INFEMIT, give thanks for this year's Stott-Bediako Forum, for a space in which to encounter one another and to experience, reflect, and act together. We are especially grateful to the Akrofi-Christaller Institute for their incredible hospitality, to all of those who participated in this forum, and many others who through their time and generosity helped make it possible. As we move into the season ahead, we look forward to building upon our commitments and to making resources from the forum available so that others may join with us in our ongoing efforts to engage redemptively with the challenges of migration in our world.
Finally, we are excited to share some initial information about the 2018 Stott-Bediako Forum. It will be held in conjunction with the Micah Global Triennial Gathering, which is scheduled for September 10-14, 2018. We will be discussing the topics of Reconciliation, Conflict, and Peacemaking. More details will be made available in the months ahead. We hope you will consider joining us and Micah Global for these significant events!

Akrofi-Christaller Institute of Theology, Mission and Culture
INFEMIT