News from Latin America:
The Fifth Latin American Congress of Evangelization (CLADE V) took place July 9- 13 in San José, Costa Rica.  The first CLADE in 1969 brought together Evangelical Christians from Latin America who, after that encounter, formed the Latin American Theological Fellowship (Fraternidad Teológica Latinoamericana), recognizing the need for Latin Americans to do theology in and for their own context.  For a short overview of the history of this movement and the CLADEs that marked it, please read Sidney Rooy's "FTL History, a Bird's-Eye View" (no longer accessible online).
Fast forward to 2012 and the 5th CLADE.  Latin Americans and the Latin American church have changed.  There are new challenges and new realities.  What does it mean to live and serve as God's people in Latin America today?  CLADE V delved head first into this question.  The congress theme was "Following Jesus in God's Kingdom of Life.  Guide us, Holy Spirit!"  Presenters and participants asked, "What should following Jesus look like?" "How are we to further God's Kingdom on life in our context of death?" and "How must we live out this Kingdom of Life in our engagement with children, in relation to our sexuality, our concern for education, our care of creation?" All of this was asked in an attitude of plea for the guidance of the Holy Spirit.
With over 650 congress attendees from more than 30 countries, CLADE V was an encounter not only of the Latin American church but also of the Global church.  The active participation and presentations of young people and women were remarked upon with enthusiasm.  One of the highlights of the congress was the "Vaccination against abuse of children and youth" in which teenagers participating in the Consultation on "Youth: Protagonists for Change" vaccinated adults against abuse.  Many of the women present at CLADE V contributed to the writing of a declaration denouncing the way churches have justified a patriarchy that perpetuates violence and exclusion.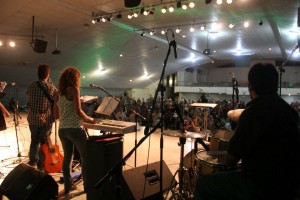 CLADE V will likely be known as the CLADE of women and young people, or the CLADE of art and liturgy.  The rich music, poetry, dance and art were infused with emotion and missional meaning.  CLADE V was a celebration: just ask the hundreds who joined in the conga line on Tuesday night, and the hundreds that were inspired by the discussions, presentations, and relationships built to live more fully as God's people in God's world. CLADE V also set a theological and missiological agenda for years to come for local FTL chapters, churches, Christian movements, agencies, youth, women and men in the Americas, in the Caribbean and around the world who seek to follow Jesus in God's Kingdom of Life under the guidance of the Holy Spirit.
To see more CLADE V videos and resources check out www.ftl-al.org.